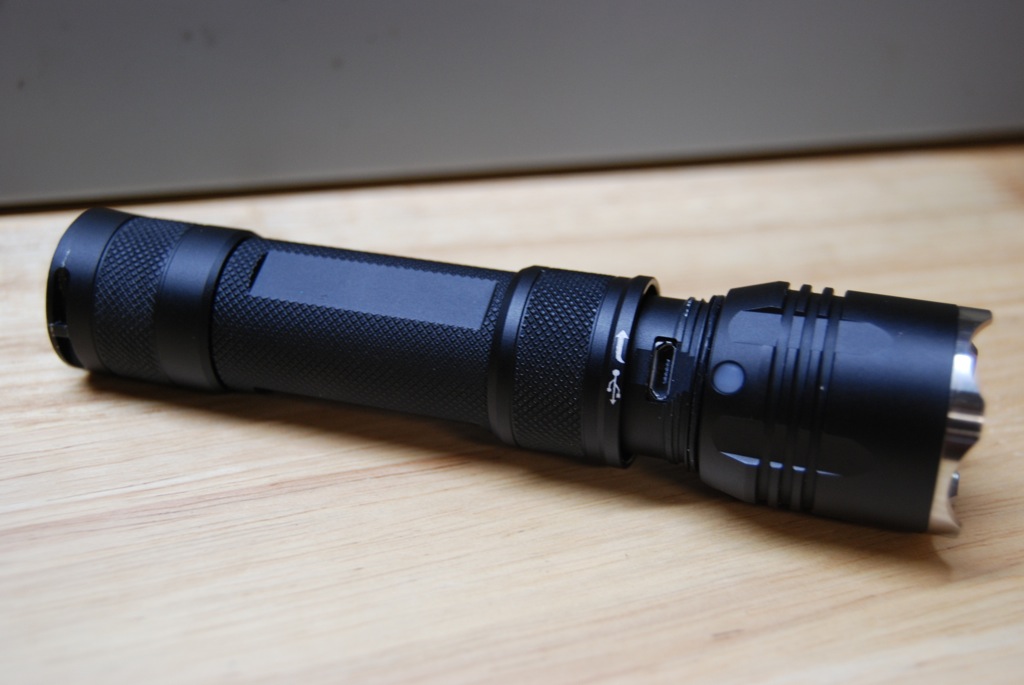 The FourSevens MMR-X is another light in the family of quality products available from FourSevens. This platform is one of their larger offerings (though still pretty small for its level of light output) and is unique in the fact that it is rechargeable through a micro-USB cable. This would be an excellent duty-gear, truck, or nightstand light for nearly any consumer.
The MMR-X offers the ability to program the light from a series of 5 different options, including varying combinations of moonlight, low, high, max, strobe, beacon, and SOS. I found configuration 2 to fit my everyday needs best, allowing me to cycle between max and low depending on what I needed it for.
The MMR-X is powered by a proprietary 18650 lithium ion rechargeable battery; a non-FourSevens 18650 battery can be used, however certain features of the light are lost. At a replacement cost of $15 from FourSevens, there should be no need to use any other branded battery. For a multiuse rechargeable battery, I applaud FourSevens for not charging a ridiculous amount of money for a replacement. On max output the battery is listed to last 2 hours, although in testing I found it to last closer to 2.5 hours before seeing a significant reduction in brightness. From a full discharge, it took between 4-5 hours to recharge the flashlight to full capacity. A sealed micro-USB input is contained where the head meets the body and a small red or green light informs you of where your battery is at in the recharging process.
The light itself has a very nice fit and finish and has a nice aggressively scalloped bezel that can be used as an improvised striking tool if things got nasty; it would definitely leave a mark. For those who don't want such an aggressive bezel, you are in luck because it also comes with a smooth bezel which easily screws on. In "burst" mode, the MMR-X powers out 800 lumens of light which is reduced to 400 lumens after 1 minute of continuous run time. In FourSevens fashion, the light comes with a few spare o-rings, a lanyard, and an alternate tail cap clicky and boot so the user can choose from a long click or a short click. Their 10 year no-hassle warranty also allows owners to rest assured they won't need to spend any more of their hard-earned money on a replacement should anything go wrong.
The MMR-X is advertised to survive a 1 meter (3.2ft) drop which I feel is a little low. Under testing, the light survived a 3 meter (10ft.) fall on concrete. The light also survived an even larger fall at 6 meters (20ft.), but the battery did not. I can't fault the battery for breaking at 20ft. because it is only advertised to 3ft., but I'd like to see more impact resistance in the future. It is certainly rugged enough for everyday use but having an extra 18650 battery around wouldn't be a bad idea. The light performed well in water submersion tests, meaning that puddle and shallow lake drops won't hurt this beast. It also operated properly after being subjected to freezing temperatures for 24 hours.
Overall this is an excellent light with various uses and the convenience of being rechargeable via any USB port. Replacement batteries, although proprietary (to use all functions of the light), are reasonably priced as well. In the future I'd like to see some ultra-impact survival lights from FourSevens, focused on the market of users who need a light to work no matter what they do to it. If FourSevens offered a fully potted model with some of their best features from their most popular flashlights, they would posture themselves to crush their competitors with functionality, reliability, and toughness.
Firearms Insider Reviews - 8 Key Points
Claim to Fame: An extremely bright, user configurable, rechargeable light.
Target Market: Anyone who enjoys being able to see things in the dark.
FNBs (Features & Benefits of this product):
Rechargeable 18650 lithium ion battery.
800 max lumens and 1 low lumen (moonlight).
User programmable configuration of light options with the tail cap.
What other aesthetic options or finishes are available? You can get any color, as long as it is black.
What others are saying? "There is nothing more capable or flexible on the market.  It is also a superior value, both because of the price and because of the rechargeable battery that is included." –Everydaycommentary.com
Price point:
I need it now! Availability: In-stock and available through the manufacturer and multiple online retailers.
Our Rating:
+ Extremely bright emitter with great throw. + Micro-USB recharging feature is excellent. + User programmable format allows for customization. + Reasonably priced replacement batteries. + 10 year no-hassle warranty.
- Keep the manual so you can remember how to program the light. - Pocket clip would be an excellent option, especially to clip onto/into a bag or backpack. - Assembled in China with components from USA, China, and Malaysia.
Score 8.0 (Great)
Steve's links: Firearmsradio.tv