I've been wanting to review this little pocket pistol for quite a while now. It's quickly becoming my favorite CCW gun, perhaps even my favorite in the entire collection. Not only is it a nearly perfect carry, but it shoots really, really well.
I quite enjoyed my time shopping around for a dedicated EDC handgun that could easily and discretely fit in the pocket of my pants, jacket or vest. Ultimately I was searching for something that would become my summer carry, and backup carry in the fall/winter. My standards were pretty simple: 9mm single stack, 7+1 capacity of higher, 3 inch barrel, tritium sights or aftermarket availability of night sights, manual safety, and above all else it had to fit in a pocket holster like a DeSantis Nemesis or Sticky Holster.
Fortunately at the time I had the luxury of working at one of the largest gun shops in the country, and everyday I got to handle all the potential candidates as well show customers who were shopping with the same parameters as I had in mind. The top 5 guns in the running were the Glock 43, S&W M&P Shield, Ruger LC9s, Springfield XDs and Sig P938. Obviously from the title and photos of this review, I picked the Sig. What did it for me was the overall length of the P938 was among the shortest, not an iota of polymer, tritium iron sights right out of the box, and it carried the reputation of a Sig firearm... high price, high quality. You really get what you pay for with this little guy, and you are actually getting a lot.
The pricetag of the P938, or any Sig for that matter, often turns shoppers off and draws them toward the cheaper polymer frame pistols that are a good three to four hundred dollars cheaper. For a short while I was on the fence too. However after feeling the P938 in my hands 5 days out of the work week, a bond was formed and a fanboy was born! There are so many colors and aesthetic options for the P938, just like its older brother the P238 in 380acp. My heart was set on either the Extreme with its grey G10 grips, or the Scorpion with its Flat Dark Earth Cerakote and rattlesnake-like Hogue G-10 grips.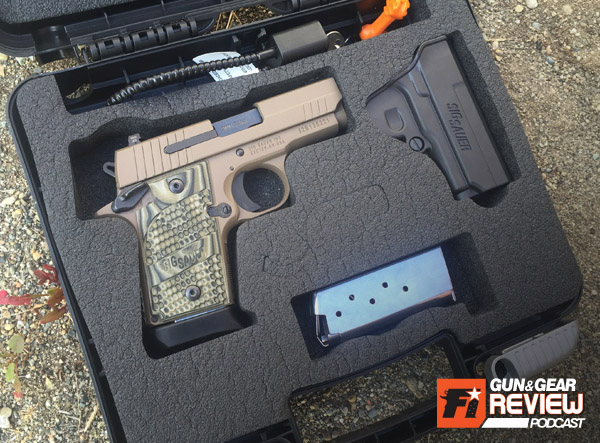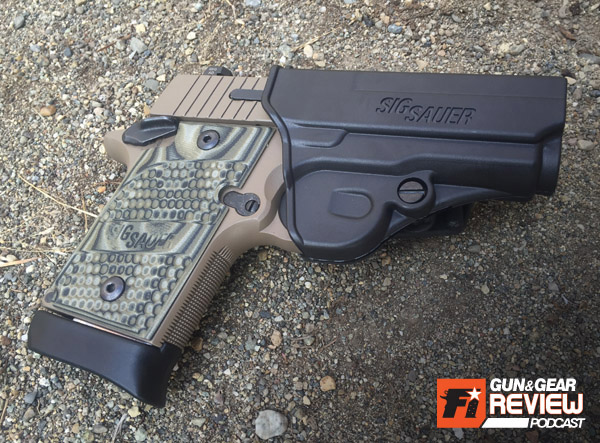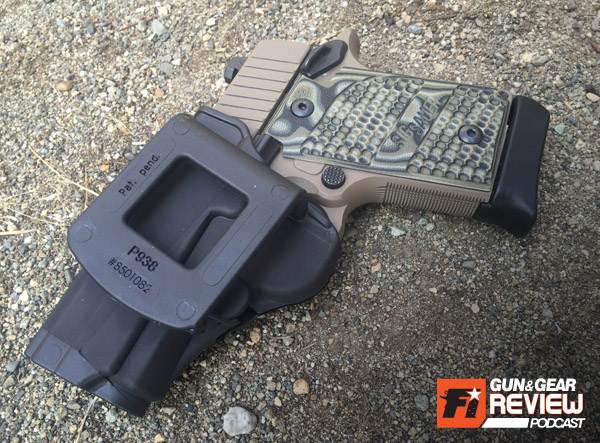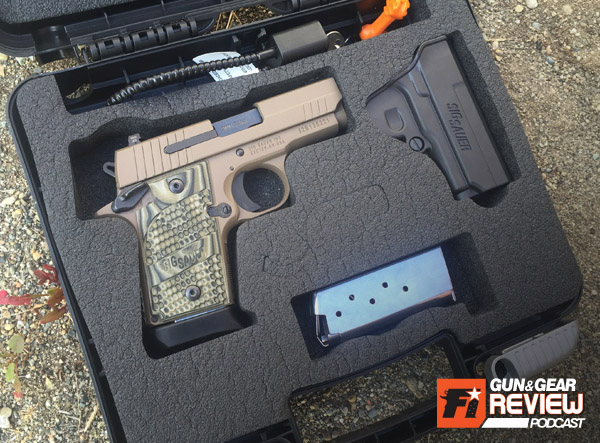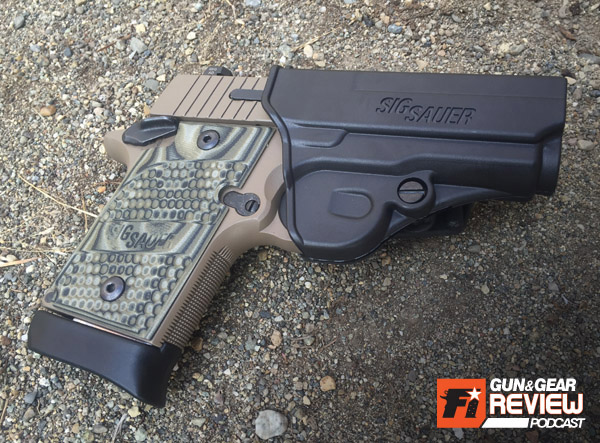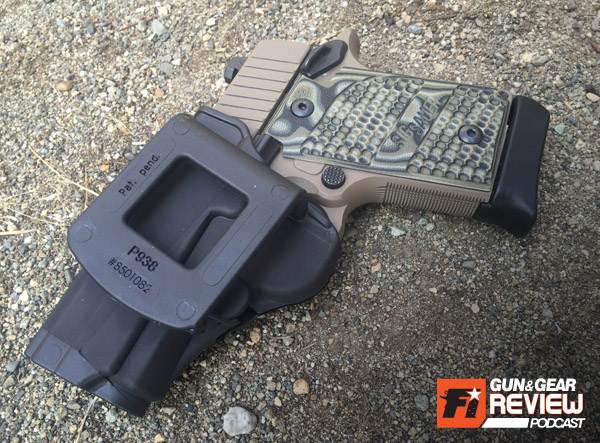 I chose the Scorpion because I wanted something different than a black gun, and Cerakote is a fantastic finish for longevity and wear. It does carry an extra $80 to the price at some retailers, but the heart wants what the heart wants. The P938 comes with a hard case, lined with cut foam to secure the pistol, extra magazine, minimalist holster, and a laser if desired. The magazines that came with my Scorpion is the 6 round flush bottom mag, and the 7 round mag with a finger extension. I believe some P938 models only come with the 6 round mags but the 7 rounder extended mags are sold seperately for about $40-50. The holster SIG included is a nice afterthought, but just like with an XD with gear from Springfield I usually just leave it in the box and use something else higher quality.
The beauty of the P938 in my eyes is that its basically a mini 1911. If you are familiar with the iconic Browning design, you'll be used to the magazine release button, slide stop, and thumb safety as well as using a single action with a mainspring housing and external hammer. It does not have a beavertail grip safety or a barrel bushing (thank God) and it actually has an ambidextrous safety thats not too obtrusive. There's a big chunk of the CCW community that believes a carry gun must be cocked and locked with no external safeties to fumble with... and I won't entirely disagree. In this case though of a single action, the safety should be engaged when carrying with a round in the chamber. When engaged, the safety blocks the hammer from moving. It may take awhile for someone to grow confident with this mode of carry, but I've found it to work just find.
You could carry with nothing in the chamber and hammer down, or hammer up to ease racking the slide, but honestly its a waste of time and overly cautious. Drawing a loaded single action and disengaging the safety can be a fluid and safe motion, if you practice and use common sense.
Disassembly of the P938 is basically simplified version of taking apart a 1911 with a few less steps. Drop the mag and check for clear chamber, safety off, and pull the slide back while pressing on the slide release from the right side, just enough where you can pull it out from the left side. The slide should slide forward with ease now and separate from the lower. Now just pull out the recoil spring CAREFULLY because that will fly across the room if your aren't careful. Do it inside a bag if you need to. Then pull the barrel out and you are all set to clean, lube, and reverse the steps to reassemble. There is a thin metal hinged hook that is fragile near the hammer mechanism protruding from the frame, and when reattaching the upper slide you need to guide that hook down under the slide so it doesn't get bent. Push the slide release pin through the slide and pseudo barrel linkage while pulling that slide back until in snaps into place, and its ready to rock and roll.
Now for my favorite part of a gun review, shooting the darn thing! The P938 looks like it would be a snappy pea shooter in 9mm due to its size, but I find it pleasant and smooth. I shoot my fair share of larger calibers, but 80% of the time I'm shooting 9mm so my hands aren't desensitized to recoil. The recoil spring and slide makes for a smooth and controllable impulse, and reacquisition of the sights is quick. The sight picture is very similar to shooting a 1911, and there is a potential for nice groups. Obviously this is no target or bench pistol, and if you plan on carrying it everyday like I do, then you need to train for shooting more active and stressful drills. Bad guys don't hold still, and they shoot back.
One of the first things I noticed when putting the initial rounds downrange with the P938 is that with a smaller framed single stack pistol, you have to pay attention to how much finger you use. Its easy to overinsert your finger into the trigger guard and use the first crease of your booger-hook to do the trigger pulling, which will cause your shots to fly left of the point of aim (right if you're are a lefty, hypothetically). Consciously using the pad of my finger instead brought the groups right into center of my point of aim.
In my eyes the P938 is the finest pocket pistol in its class. By no means will I hate on the Glock 43 or M&P Shield because those are great little guns too. I love striker fired tupperware guns just as much as the next guy. However for me, depending on a quality pistol like the P938 on an everyday basis is a nice reassurance to have in the make of my mind.
FIREARMS INSIDER REVIEWS – 8 KEY POINTS
Claim to Fame: With the introduction of the P938, SIG SAUER now offers the ballistic advantage of the 9mm cartridge in a platform similar in size to the best-selling P238 pistol.
Target Market: Concealed Carry / Home Defense
FNBs (Features & Benefits of this product):
Caliber: 9×19 (there is a .22 LR variant as well as two 9mm-to-.22 LR conversion kits)
Capacity: 6+1 or 7+1 with extended magazine
Barrel Length: 3.0″ (threaded barrel variant also available)
Overall Length: 5.9″
Height: 3.9″
Width: 1.1″
Weight: 16 oz with unloaded magazine
SIGLITE Night Sights
Grips: Hogue Overmold, Rosewood, G10 (varies by P938 sub-model)
Trigger: Single Action Only. 7.5-8.5 lbs pull weight (7 lbs as tested)
Includes a Holster
What other aesthetic options or finishes are available?: Plenty!
WHAT OTHERS ARE SAYING?:
"Overall, the SIG Sauer P938 is more pleasant to shoot than you'd likely expect. I'm sure it would be even better with an extended mag that allows all five fingers to join in on the fun. It's super light, feels like a "real gun," runs reliably, and is one of the easiest-to-conceal 9mms available. The cost of entry is on the high side, but the quality is commensurate. Where I really think the P938 is worth it is when you're used to shooting a hammer-fired pistol with manual safety — especially and particularly a 1911. If you compete with a 1911, target shoot with one, carry one when your attire affords it, etc etc, then the P938 is a no-brainer. Same manual of arms in a carry piece or backup gun as your primary or as what you're most used to and trained on? Yes, please." Truth About Guns Review
"The gun fits my hand great for a compact. I am pretty tall and have long fingers. The grip on this gun is a little wider than other compacts, so it's easier for me to feel comfortable with my grip. Also, with the extended mag that comes with the pistol, I don't have that awkward hanging pinkie. The handle is more square than say, a Glock, which has an oval shaped handle, so for me it is easier to keep a good grip, especially in hot weather. This comes standard with Sig Sights, which are "night glow" raised sights. I have poor vision, but have no difficulty aligning the sights in my dark hallway with no contact lenses in.The sight corners are rounded to prevent it from snagging on clothing during draw. As with all Sigs, the slide is really easy to rack back, it almost feels like it's on a ball bearing track compared to other pistols I own. From this compact 9 mm to my .45 1911, I have NO trouble racking Sig Sauer pistols and I don't feel fatigued from racking them when shooting for long periods of time. The "off the shelf" trigger weight is pretty lights (I can't recall the weight offhand), but it is lighter than that of other pistols I have. I like a light trigger, so I was pleased that I didn't have to adjust or upgrade this one. This pistol has very little recoil; I suppose because the pistol itself is a bit heavier than other models its size. I do like the weight, I feel it helps me recover to target better after a shot. Keep in mind though, grip and stance play a huge part in managing recoil." - The Well Armed Woman
PRICE POINT:
MSRP: $893.00
Retail: $630-$800
I NEED IT NOW! AVAILABILITY:
Check your local SIG Dealer.
OUR RATING:
Pros:
Recoil is pleasant for a small frame/barrel
Night Sights right out of the box
Ambidextrous Thumb Safeties
Chamber can be cleared with safety still engaged
Cerakote makes cleaning easy, looks great
Easy Takedown
Cons:
Non Ambidextrous Mag Release
Beavertail in frame is small and doesn't protect large fatty hands
Gap in slide ejection port on right side
SCORE: 9.0 AMAZING