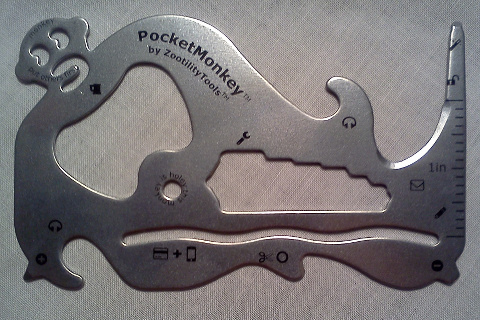 I first saw this in a magazine a few months ago.  With a $12 price tag, this definitely isn't an impulse buy.  They didn't seem to have a stockpile of them but said that it would ship out on the next batch the received.  I'm not sure what there system is but it showed up pretty quickly.  It arrived on a piece of cardstock detailing all of its 12 functions.  I wasted no time testing it out.  I've used all of 
the different functions, some more than others, and found it to be quite useful and extremely convenient.  Normally I carry a mini multitool and a pocket knife but both of those could be replaced save for the pliers on the multitool.  It has features that my other things do not, such as the cell phone kickstand, hex wrenches, locked door opener, and more. This tool is extremely small, light(1oz) and durable.  Designed to slip into your wallet, it's about the size of a credit card, just a little thicker at 1mm.  The only thing that I found to be an issue was turning bolts/nuts tightly because it was so thin, it didn't feel the greatest.  Also, if you're expecting the letter opener to be razor sharp you'd be wrong.  It took me a couple letters to get the hang of opening them with it as it is somewhat sharp.  Overall I would say treat yourself to it but don't plan on buying everyone in your family one because it'll add up fast.
Firearms Insider Reviews - 8 Key Points
Claim to Fame: A pocket tool that's actually convenient.
Target Market: Designed for everyday people who could use it every day.
FNBs (Features & Benefits of this product)
Cellphone Kickstand
Bottle Opener
Flat Screwdriver
Micro Screwdriver
Door Latch Slip
Letter Opener
6 Hex Wrenches
Phillips Screwdriver
Orange Peeler and Banana Nicker
Ruler(inches and millimeters)
Straight Edge
Headphone Wrap
What other aesthetic options or finishes are available?  Only in stainless steel.
What others are saying? 4 out of 5 stars on Amazon
Price point:
I need it now! Availability: zootilitytools.com and Amazon
Our Rating + Tough + Small + Convenient + TSA compliant
- Letter opener not very sharp, it does work as is or you could sharpen it - Too expensive to buy a lot of them (although you can get a discount if you buy 5 or 10)
Score 9