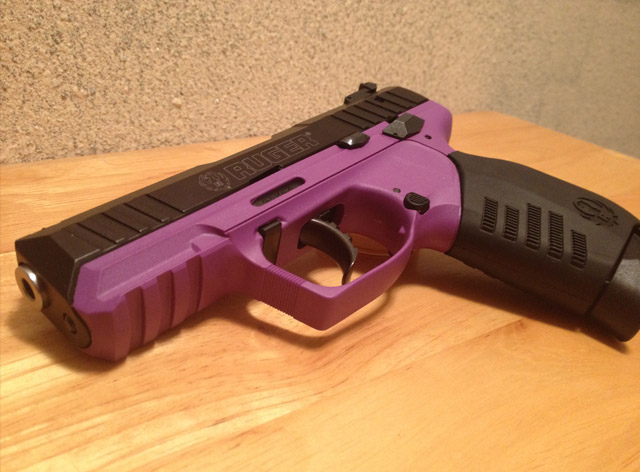 Every new shooter needs to experience the joy of a 22LR pistol.  The 22LR's reputation for lightest recoil and lightest pricetag (when available) offers hours of enjoyment and valuable understanding on how firearms function and proper handling.  For the significant loved one in your life - husband, wife, boyfriend, girlfriend, nephew/niece, child, grandchild - a 22LR is a fantastic tool to let them use at the range.
I stumbled across this "purple pea shooter" at a local gunshop and new it was only a matter of time before I picked it up for my significant other.  Her favorite color is purple, and I had already gotten her a Ruger 10/22 rifle with a purple painted stock.  This little Ruger seemed a perfect addition to her collection.  The timing of it being just before Valentine's Day made this gift even better.
She was of course was furious at seeing yet another white cardboard box with Ruger's emblem on the top, but was quickly overjoyed at learning it was her's. Our first range trip with the SR22 was very successful, it fed Remington Thunderbolt 22LR flawlessly and the groups were adequate with plenty of room for improvement.  I did experience some double feeding on the next trip to the firing line using Federal Match ammo, I assume the feed ramp prefers round tip bullets over certain hollowpoint bullets, I will be sure to experiment with more as they show up on the shelves.
This 22LR has followed us to the range every time since purchasing it as its always enjoyable to shoot. Her comments are that the grip really felt good in her hand with the palm swell installed, and made the negligible recoil even lighter and follow-up shots easy to do. She was also a big fan of the hammer as it made it easy to know when it was ready to fire, and the safety disabling the hammer was very useful for when stopping between shots.
While it's not the best in any category, it is a solid and well constructed pistol that is certainly worth the mid-range pricetag of $320 that I got it for.  With is safety features that are easy to manipulate but also help ensure correct handling is used, this pistol is ideal for new shooters.
Firearms Insider Reviews - 8 Key Points
Claim to Fame: Packed with versatile features, the SR22 is lightweight and perfect for just about anything. It is easy to field strip, fun to shoot, and will run reliably with a wide variety of ammunition (not just high-velocity ammunition).
Target Market:  Plinking, target shooting and even small game hunting
FNBs:  (Features and Benefits of this product)
Length: 6.4 inches, Barrel 3.50 inches
Width: 1.29 Inches.
Weight: 17.5 ounces.
3 Dot Sight: Fixed, White Dot Front Sight, Adjustable Rear Sight with Reversible Blade.
Picatinny Rail with Multiple Cross Slots for Variable Mounting of Accessories.
Hammer-fired
Ambidextrous manual thumb Safety / Decocking lever and Magazine Release
Two Options for Grip/Palm Swell
Magazine/Disconnect Safety
 What other aesthetic options or finishes are available?:  All Black frame and slide available, as well as a black frame with stainless slide.  Also with other options with threaded barrels and Crimson Trace Lasers.  The purple pea shooter's model number is 3606.
What others are saying?: "Like many people, I recently started looking for something fun and less expensive to shoot than my higher caliber handguns, and a couple of months ago I bought my SR22 for that purpose. I love being able now to go to the range a time or two each week and not spend a fortune in the process, while having a blast each time. Along those lines, one of the SR22's particularly great features, as many reviewers have stated before me, is that this gun doesn't care much what you feed it, and that's a great trait when ammo is still so hard to find. But in truth, all of its features are great: incredible accuracy, superb ergonomics, light-weight construction but extremely sold feel, hassle-free takedown and cleaning! .... The three-dot sight system is hard to beat. Even in poor light, without any of the enhancements of fiber optics or other techier add-ons, this little gun provides a clear and fast sight picture that lets you hit and stay on target round after round. Maybe this isn't literally the perfect fun gun, but if it isn't, I don't know what is!"  -DaveG49 Cabelas Review
Price Point:
I need it now! Availability: Online Dealers or Local Gun Shops.
Our Rating:
+ External safety functions as decocker, making this pistol a great learning platform for a new shooter. + Simple to disassemble and clean. + Includes soft zippered pouch, two magazines and two pinky extensions. + Magazines have plastic thumb assist for compressing spring that doesn't hurt after multiple reloads. + Price is very decent compared to other .22lr pistols.
- Seems picky with ammo, ate up Remington Lightning but choked on Federal Match. - Magazine release is mushy to me, could be easier to actuate. - Picatinny rail has smaller slots and shallower than most polymer frames in my safe.  Certain accessories may not mount. -Trigger reset length is terrible, not a good tool for teaching accurate handgun shooting.
Score: 7.0