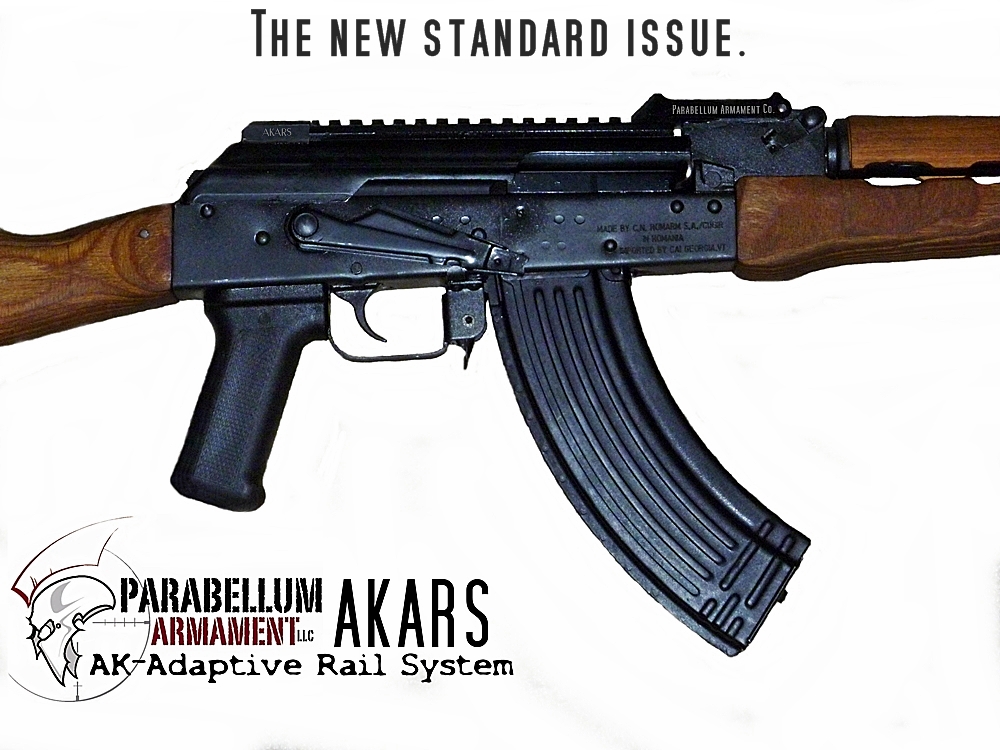 By Ryan Cross
One of the biggest differences I've found from an owner's standpoint, between the AK variant rifle and its American rival the AR-15, is the availability of mounting options for scopes, red dot sights, or reflex optics. A simple Google Image search for optic mounted AK platforms would result in dozens of aftermarket railed forend (in front of the rear sight), or alternatively with an offset rail that mounts to the side of the receiver (if your rifle has the appropriate hardware already installed) that hovers the mount just above the dust cover. I was not very interested in pursuing either of these options for this particular Romanian WASR-10 with traditional wood furniture. In fact, after sanding and refinishing the wood of both the stock and the handguard, I was keen on keeping them. On my first outing with the firearm, I gave my jaw quite the jarring when using the iron sights, for which I am blaming my stylish but non-ergonomic corrective lenses. Must be why the ruskies always hip fired their AK's in the 007 movies, no?
I was at a crossroads. I have quite a few cheap red dot sights laying around with no home. I wanted to shoot the WASR-10 accurately and more efficiently (sans the black eye). So, invest in an aluminum picatinny railed handguard and remove the rustic wood I was so fond of? Or use a side mount that would never truly be concentric with the bore, and also add bulk to the rifle. I'm not the strictest purist out there, but wanted a happy medium between a functional and effective mount for an optic and keeping the rifle as traditional as possible.
My search quickly lead me to the AKARS system by Parabellum Armament. My initial positive impressions were that I could mount a red dot sight right on the dust cover with a good 6-8 inches of eye relief, with no permanent modifications to the gun. The last thing I need is another project gun and another dedicated drawer to extra parts. The install was moderately easy, and I sure am happy with the results. Good groups, repeatable zero, doesn't interfere with cleaning, and more importantly I can use a better cheek weld. Just because your rifle has been battle-proven, doesn't mean your face has to look like its been in a battle as well!
Firearms Insider Reviews - 8 Key Points
Claim to Fame:  Provides installation of a rail system without permanent modifications.
Target Market:  Saiga or AK type variant owners wanting a rail for mounting optics.
FNBs Key Features:
Installs with no permanent modifications to your rifle.
Aligns better with bore than side mounts.
Adjusts to different tolerances of AK type firearms, via a sliding rear mounting block on the dust cover that interfaces with the rail via two pins.
WILL NOT FIT: Yugo (Zastava) AK variants (M70, M72, M92), AKS-74U, or Romanian PSL Rifles
MIL-STD 1913 Picatinny rail
Integral rear sight notch (non-adjustable)
Enables lower ⅓ cowitness with micro red dot sights
Made in USA
Key Benefits:
Repeatable zero when rail is swung up/dust cover is removed for maintenance
Reduces or Eliminates 'Dust Cover Wobble'
New Dust cover included is stronger steel than original
What other aesthetic options or finishes are available?  Evil Black Only
What others are saying? Youtube Review - Mrgunsngear Same reviewer, written review on The Firing Line
Price point
I need it now! Availability:  Blackheart International
Our Rating + Excellent fit on test rifle, Romanian Wasr-10 + Included dust cover is thicker, better quality than the original + Picatinny slots are T-marked for repeatable mounting position + Much prefered mounting position as opposed to forward / railed forend position + Did not lose zero after repeated firing/opening & closing of dust cover + More accurate and convenient than side rail / dogleg option
- Installation was pretty difficult, only because of tension on test rifle's rear sight leaf spring, took approximately 45 minutes for my install without a vise or press. - The newer AKARS' rear sight is a 'U' notch, and is a bitter wide for my liking/precision use of irons. - Price is a bit stiff for two pieces of metal, but such is the hobby we chose! - Slight eyesore of Parabellum Armament / Rail system name printed on the side of rail.
Score 8.5
Featured FFL Ryan prefers Promised Land Firearms for all his FFL needs.
Ryan's links: My Blog