There are two kinds of companies: those that make a product just to sell, and those that make products they want to use themselves, because they recognize the hole in the marketplace and the need that's there. Griffin Armament is one of the latter type, and they design some of the most forward-thinking products in the industry.
There are a lot of back up iron sights out there, with their own differences and improvements over their predecessors. Some are fixed, some are collapsable. Some are in-line with the top rail, others are offset to be used in conjunction with a long, magnified optic. If you own an AR-15 or other modern sporting rifle, you probably like to try different optics and different configurations every now and then, which means accruing a junk drawers worth of different iron sight sets.
The hole in the marketplace is that there wasn't one pair of iron sights that were flexible enough to do-it-all. That, and nearly every offset sight on the market is designed to hang off the right side of the gun, leaving lefties out completely. Well, the guys over at Griffin Armament were pondering the same problems, and as a solution came out with their Micro Modular Back Up Sights.
Also known simply at M² Sights, they are flip up front and rear iron sights that mate with a dovetail-like base, secured together and tightened with a set screw. The use of the dovetailed joint allows for easy swapping between inline and offset, and also the reversal of the offset bases for either left or right handed shooters. The vertical set screw method is best way to secure the sight in place, while doing away with any unnecessary bulk that comes from a clamping design.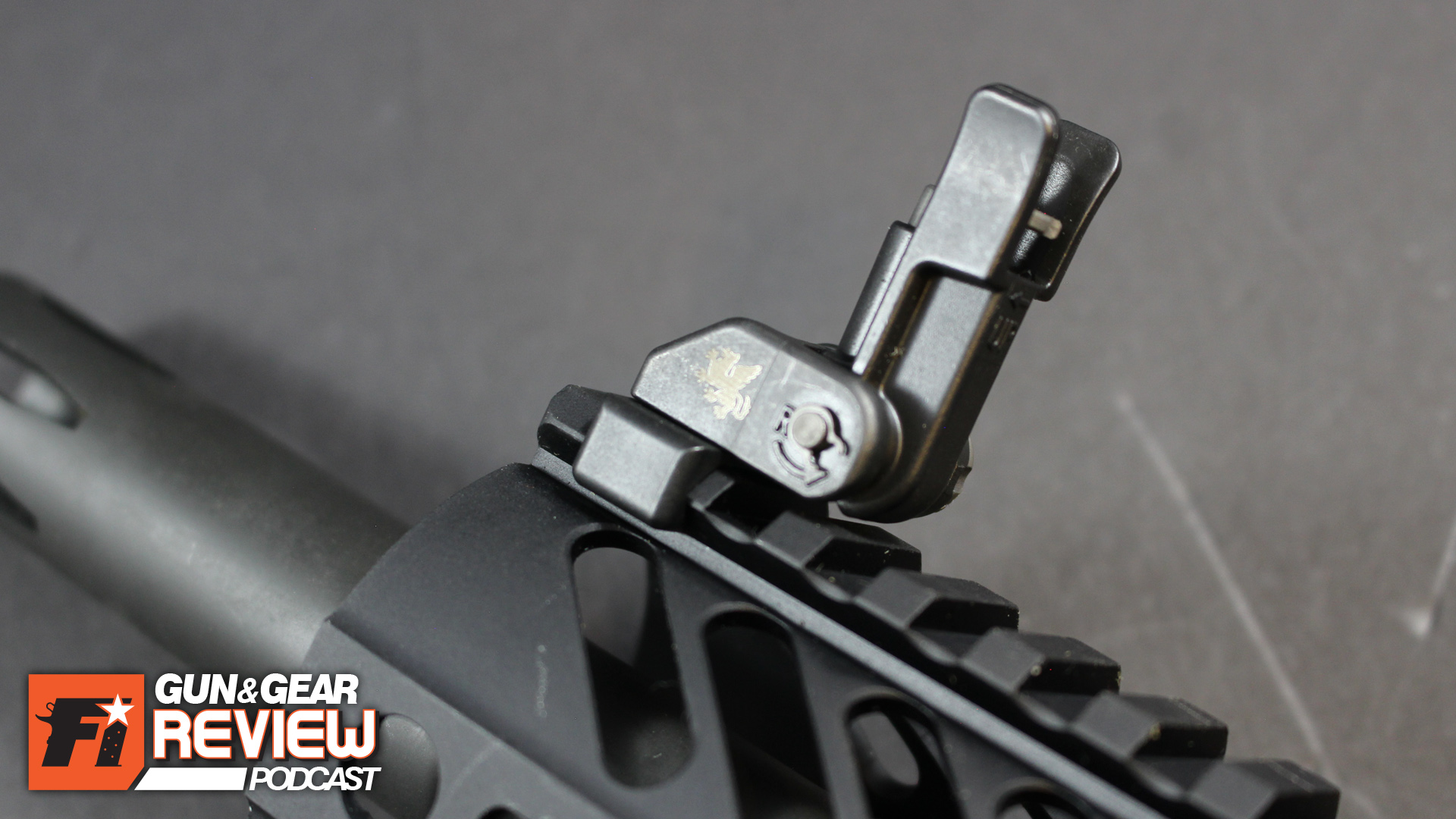 The M² Sights don't have a spring-loaded rapid deployment feature, but its not needed in my opinion.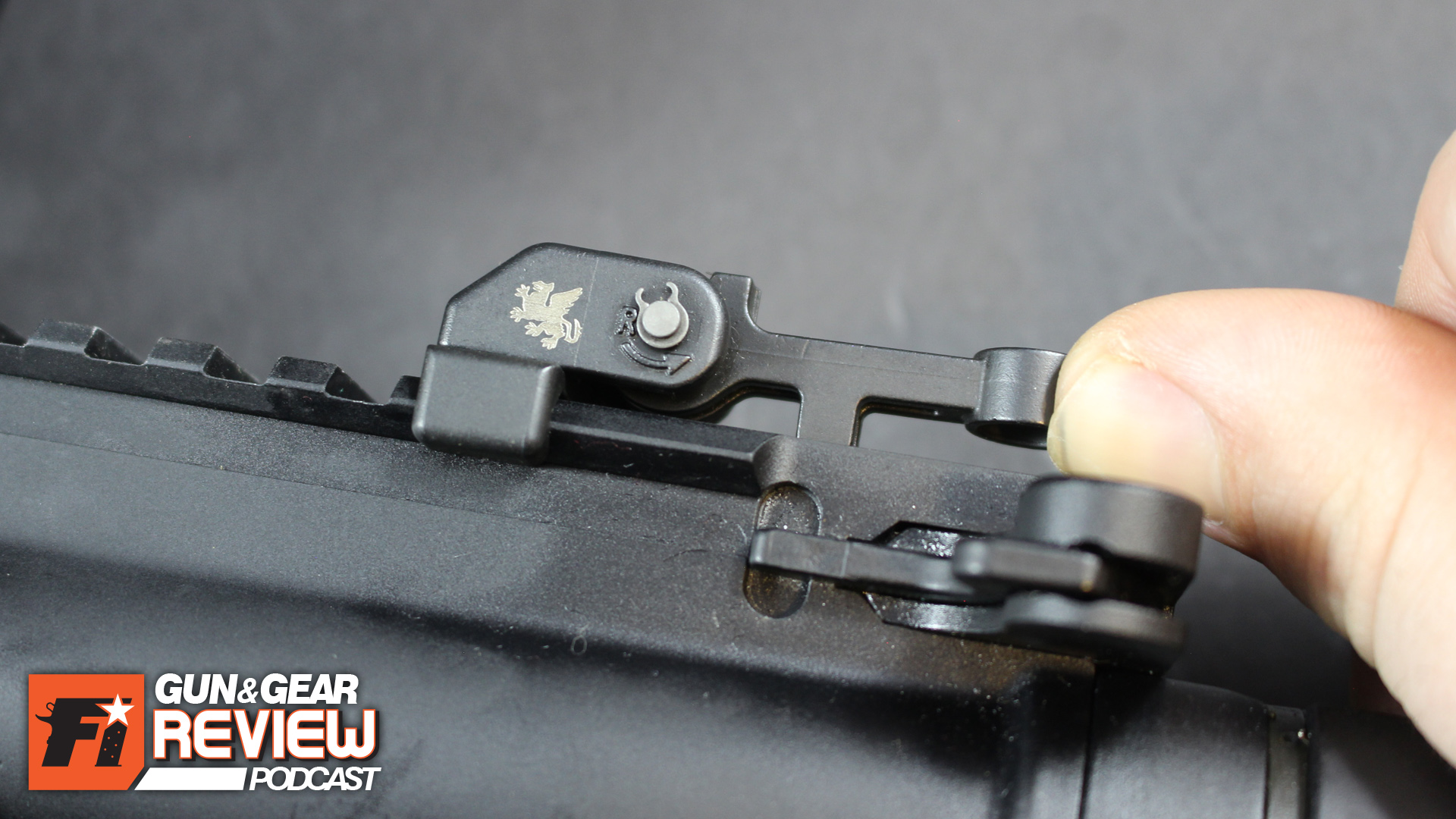 Should the need arise for iron sights, it only takes a few seconds to manual pull the front and rear sights up in the ready position.
Not having an mechanical flip up feature also does away with extra moving parts, and thus removes variables that could fail. A simpler design can be a stronger and more reliable solution, and that's exactly what you want if your life depends on your rifle, and your iron sights are all you got.
The inline configuration of the M² Sights has the traditional M16 sight picture, except for the partially exposed threads of A2 front sight post.
Cowitnessing is just like it should be through a red dot optic, however the fixed aperture of the rear sight is a bit small for my preference in short range work, but it still works fine. Not having a dual aperture removes some utility, but its an acceptable compromise for a strong, solid construction. What really matters is the total height above the rail when the rear is folded, for optimal clearance of magnified optics. Folded, the rear sight is only 0.525" at its tallest point. This is plenty low enough to clear most magnified optics mounted at the appropriate height for AR-15s / AR-10s. For comparison, Magpul BUIS polymer rear sights also measure 0.525" tall when folded.
The real beauty of the whole M² Sight Deployment Kit is the angled plates that come in the bundle. The bases are ambidextrous, so you can position the dovetailed base offset on the left or right side of the rail. They are affixed to the rail via two set screws instead of just one, and only take up the smallest amount of rail space possible.
Both rear and front M² sights are windage adjustable. The front sight utilizes the A2 front sight post, so obviously its elevation adjustable as well. Using the existing pool of aftermarket A2 posts is a no brainer, and easy to replace with your favorite blade, even tritium equipped ones for low light use.
The M² Sight Deployment Kit is a well thought out backup iron sight system that fixes several issues that experiences guys have been wanted resolved. It combines the aesthetics of the more minimal backup sights like that of the FN SCAR, while using a modular attachment system previously unseen on a sight itself. Plus, they look to be one of the tankiest low profile iron sets I've come across. That, coupled with the angled ambidextrous bases that come included, make it a 'buy once, never buy again' upgrade.
FIREARMS INSIDER REVIEWS – 8 KEY POINTS
Claim to Fame: Griffin M2 sights offer an industry first, patent pending, modular base plate system and were designed to be the correct product for every backup sight application.
Target Market: Modern Sporting Rifle / Modular Rifle owners (AR-15s, SCARs, etc)
FNBs (Features & Benefits of this product):
Constructed from 17-4 stainless and ordnance grade steel materials
Melonite QPQ and Manganese Phosphate finish
Front sight compatible with mil-spec posts
Included angle plates are ambidextrous
What other aesthetic options or finishes are available?: Black Only
What others are saying?: "Great sights. Very well made and designed. They are small enough not catch on everything, especially in a crowded gun safe. They mounted easily and securely and the rear sight fits nicely around the forward assist. Deployment is quick and sure with a solid lock. Sight adjustment is fast and easy. Because of the design you can adjust elevation at the front sight without the use of a bullet tip. All you need to do is depress the pin with a thumbnail. I am very happy with this purchase and will buy other Griffin Armament products because the quality is excellent." Amazon User Review
Price point:
MSRP: $184.95 full deployment kit, $72.00 individual vertical sights, $39.95 vertical bases, $49.95 offset bases
COUPON CODE: "GG10" for 10% off all M2 sights/products/accessories*
*Effective til March 31
I need it now! Availability: Griffin Armament or Amazon
Our Rating:
Pros:
Easily convertible to inline or offset configurations
Ambidextrous offset sights! Finally!
A2 front sight post compatible
Rear sights are windage adjustable
Cons:
Detents are really stiff at first
Fixed small aperture in rear sight
Score: 8.5 Great